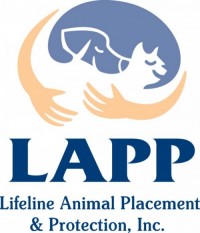 Lifeline Animal Placement and Protection, Inc. (LAPP) is a Wichita, Kansas based non-profit animal rescue and adoption kennel. Volunteers have dedicated their time and hearts to save animals that have been abandoned, abused or were relinquished by their owners. LAPP tries to rescue animals from other over-flowing shelters to save them from being euthanized. The kennel does not euthanize animals.
Lending a helping hand: There are many animals at LAPP that are available for adoption by good people. There are other ways to help, monetary donations and tangible donations to LAPP is extremely appreciated. If you would like to adopt an animal, be a volunteer, or donate to LAPP, please call Pat at 316.807.8473.
~Lifeline is a 501© Non-Profit Organization. All donations are tax deductible.
Due to COVID 19 all adoption events at the pet stores have been canceled until further notice. We are showing dogs at the shelter so please call Michelle at 316.461.1405 for an appointment.